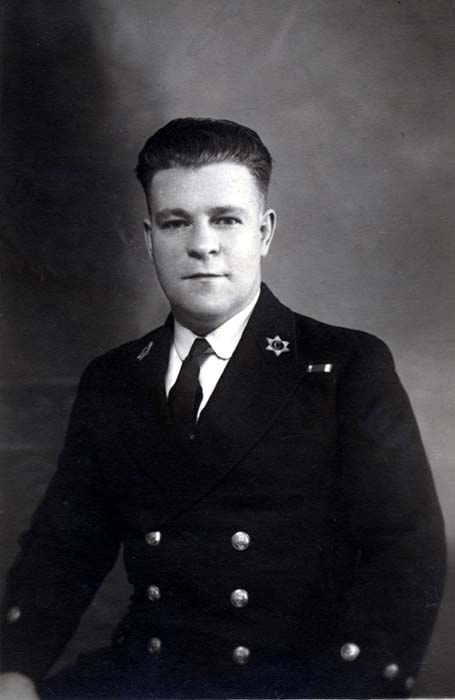 Chief Petty Officer William (Paddy) Walter Nicholls RN (Service Number D/M 37968)

HMS Glorious

Killed in Action Sunday 9th June 1940

Remembered with honour Plymouth Naval Memorial, Devon
While returning from Norway, escorted by the destroyers HMS Acasta and HMS Ardent, she was engaged by the German ships SCHARNHORST and GNEISAU. The first salvo, which caused serious damage perforated the flight desk and burst in the hanger. Small arms ammunition exploded and a fire started in the hanger but this was soon got under control The next hits were on the bridge, as a result the commanding officer and most of the bridge personnel were killed. Further hits followed rapidly and one salvo struck on or abaft the centre engine room caused serious damage. The ship began to loose speed and circled to port with a list to starboard. GLORIOUS eventually rolled over to port and sank about one hour after she was first attacked.

The ships were travelling under radio silence and, although a message was sent and received during the attack, no support vessels were sent to find survivors and over 1,500 men were lost either during the attack or subsequently died in the Norwegian Sea. 39 survivors were rescued some time later from the sea by a neutral ship. The radio silence was most likely to protect the location of the Norwegian Royal Family who were being evacuated from Norway at the time - this is officially denied but Rosemary (Walter's only child) later received a large box of toys from the King of Norway.

Widespread surprise at the scale of the loss and the unexplained circumstances of the action leading to the sinking still abound, question are still asked, without answer, in the House of Commons.


Service Record of William Walter Nichols RN
William was born on 17-Mar-1905 at Pinhay Cottages, Axmouth, Devon. He joined the Royal Navy on 05-Feb-1924, initially signing of for a period of 12-years. He re-engaged with the Navy on 25-Sep-1934 for the remainder of his service (until his pension). He was 5' 3½" tall with brown Hazel eye, Brown hair and he had a tattoo of a snake and butterfly on his right arm. He was granted 1st (05-Feb-1927), 2nd (05-Feb-1932), and 3rd (12-Mar-1937) Good Conduct Badges and the Long Service and Good Conduct Medal (09-May-1939).

Service Record
05-Feb-1924: Assistant Cook
05-Jan-1925: Cook
08-Jun-1930: Leading Cook
26-Jun-1934: Petty Officer Cook
09-May-1937: Chief Petty Officer Cook

Ship and Shore Establishments
HMS Vivid 15-Feb-1924 - 24-Oct-1924 - Devonport
HMS Impregnable 25-Oct-1924 - 09-May-1925 - Devonport
HMS Vivid 10-May-1925 - 11-Jan-1926 - Devonport
HMS Emerald 12-Jan-1926 - 21-Aug-1928 - East Indies
HMS Vivid 22-Aug-1928 - 16-Sep-1929 - Devonport
HMS Lowestoft 17-Sep-1929 - 15-Oct-1929 - Mediterranean
HMS Vivid 16-Oct-1929 - 15-Sep-1930 - Devonport
HMS Dorsetshire 16-Oct-1929 - 31-Mar-1935 - Atlantic and Africa
HMS Drake 01-Apr-1935 - 23-Apr-1935 - Devonport
HMS Rodney 24-Apr-1935 - 23-Apr-1937
HMS Drake 24-Apr-1937 - 28-Feb-1938 - Devonport
HMS Glorious 01-Mar-1938 - 09-Jun-1940 - Mediterranean and Norway

HMS Vivid was the Navy barracks at Devonport; it was commissioned in 1890 and operated as a training unit until 1914. The base was renamed HMS Drake in 1934. A number of ships were renamed HMS Vivid whilst serving as depot ships for the base (HMS Marshal Ney, a monitor, was HMS Vivid between 1922 and 1934).

HMS Impregnable was a training establishment started at Devonport in 1862, and active until 1929. As training ships were replaced or added to the establishment, each was renamed Impregnable when she took on the role (HMS Powerful, a four funnel cruiser, was HMS Impregnable between 1919 and 1929).

HMS Emerald was an Emerald class 33 knot light cruiser launched in 1920 and broken up in 1948. Emerald went out to the East Indies, 4th Cruiser Squadron, on commissioning in 14-Jan-1926, finally returning home to pay off on 15-Jul-1933.

HMS Lowestoft was a Town-class light cruiser (a group of twenty-one light cruisers built for the Royal Navy and Royal Australian Navy as long-range cruisers) launched in 23-Apr-1913 and scrapped in 1931. Lowestoft 1916 was assigned to the 8th Light Cruiser Squadron in the Mediterranean.

HMS Dorsetshire was a County-class heavy cruiser launched on 29-Jan-1929 and sunk by the Japanese Navy southwest of Ceylon on 05-Apr-1942. After commissioning on 30-Sep-1930 the Dorsetshire became the flagship of the 2nd Cruiser Squadron. In 1931, she was part of the Atlantic Fleet during the Invergordon Mutiny but the incident was brought to a close before her crew joined the mutiny. From 1933-1936 she served on the Africa Station.

HMS Rodney was a Nelson class battleship (one of two unique battleships with a main armament of 16 inch guns which were all forward of the superstructure) launched on 17-Dec-1925 and broken up in 1948.

HMS Glorious was a Courageous-class large light cruisers built during World War I and her nick-name was Laborious. The Class was very lightly armoured and armed with only a few heavy guns with a shallow draught to allow them to operate in the shallow waters of the Baltic. Glorious was completed on and spent the war patrolling the North Sea. She was rebuilt as an aircraft carrier between Feb-1924 and Mar-1930 and spent most of her career operating in the Mediterranean. Glorious spent the rest of 1939 unsuccessfully hunting for the German pocket battleship Admiral Graf Spee in the Indian Ocean before returning to the Mediterranean. She was recalled home in April 1940 to support British operations in Norway.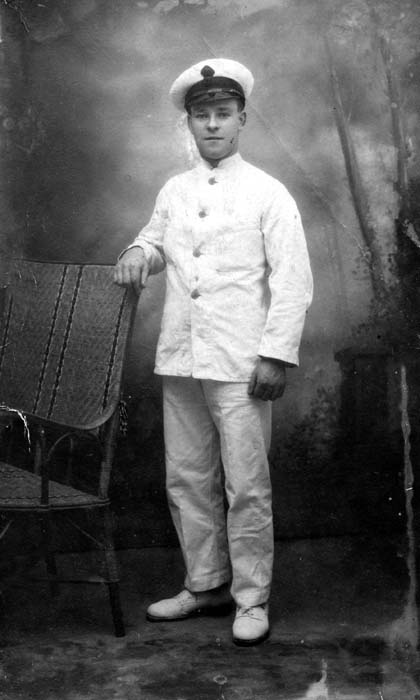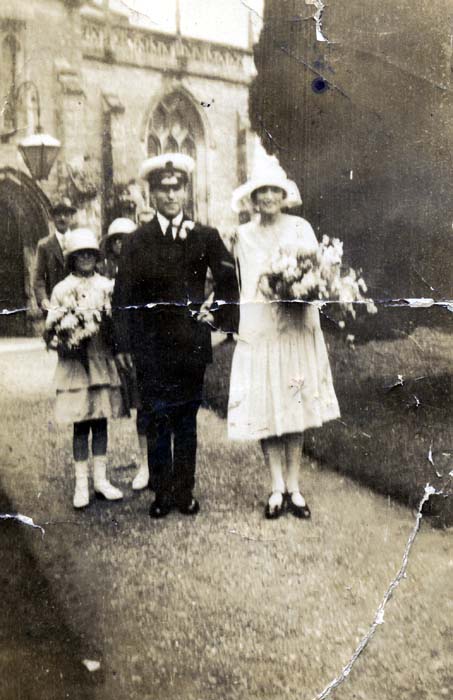 Assistant Cook (Left), Wedding to Ada Holland during Jul-1928 at Axminster, Devon (Middle) and Chief Petty Office (Right).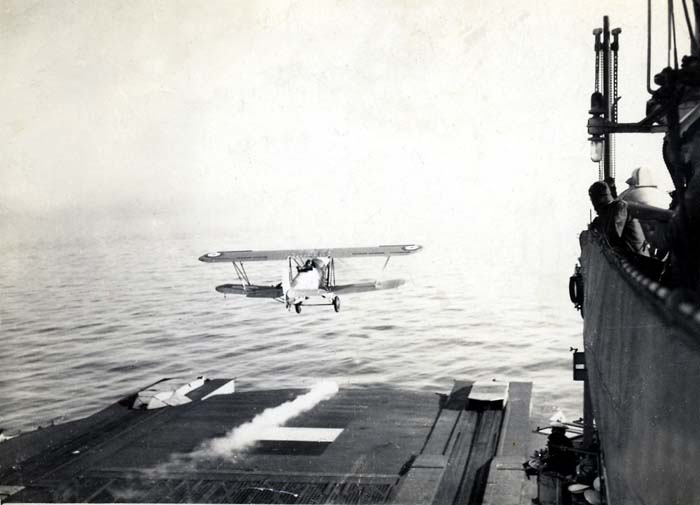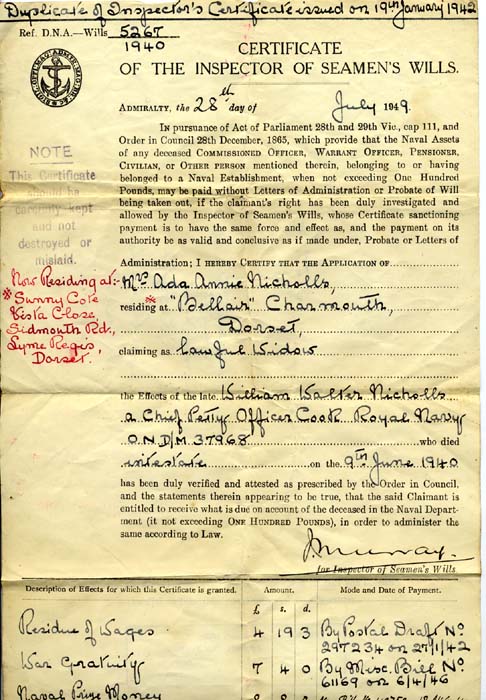 Gladiator flying off of HMS Glorious (Left) and a copy of William's Will.
---
Contact & Feedback : Egyptology and Archaeology through Images : Page last updated on 27-February-2020