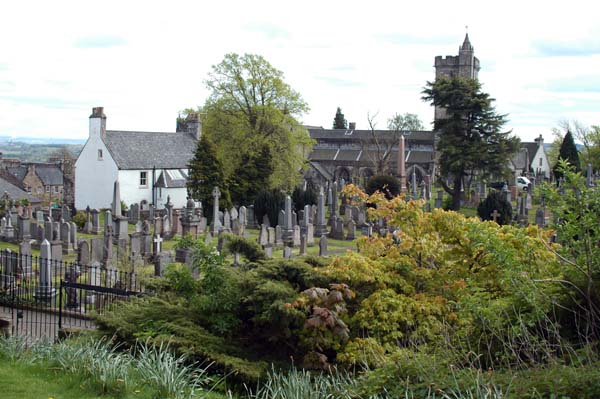 The Church of The Holy Rude (Rude means Cross), Stirling [Church of Scotland] and the Star Pyramid

The first church on this site was built in the 12th Century and is in the shadow of Stirling Castle. The oldest part of the church, still standing, is the section adjoining the tower which dates from the 15th Century. It is the second oldest building in Stirling after the castle, and dates its existence back to the reign of David 1 (1124 - 1153) as the parish church of Stirling.

In 1452, the town and it's wooden church were burned in revenge after King James II murdered the Earl of Douglas.

Inside the church each local craft guild maintained an altar to its Patron Saint. Some burgesses built their own private chapels but only the chapel built for St. Andrew remains. The nave has a fine medieval timber roof, whilst the tower has small pits. These pits are musket and cannon ball marks, probably caused during the English Civil War when Parliamentarian General Monck used the tower as a gun battery to attack Stirling Castle in 1651.

A plaque on the floor marks the spot where the infant, King James VI was baptised in 1567. The child was christened in a gold font sent by Elizabeth of England. He was carried into the chapel by the Count of Brienne, as proxy for his godfather the king of France. Queen Elizabeth and the Duke of Savoy were also godparents. The ceremony was conducted by the Archbishop of St. Andrews according to Roman Catholic rites while the Protestant lords stood outside the chapel.

Mary, Queen of Scots, worshipped in the Holy Rude and John Knox preached there, and James VI was crowned there. There are many interesting features to discover in the building and indicating its checkered history.

In 1656, during the fierce religious disputes of the 17th century, the Church was divided into two by a wall – through which the rival ministers of the two halves voiced their disagreements. The dividing wall was only removed in 1936.

In the graveyard, the graves of merchants and traders are carved with signs and symbols of their craft or trade.

Because of its close links with the castle, the church always had the close support and patronage of the Stuart kings (especially in the 15th, 16th and early 17th centuries). It is reputed to be the only church in the United Kingdom other than Westminster Abbey to have held a coronation and still be a living church today.
Star Pyramid, Stirling