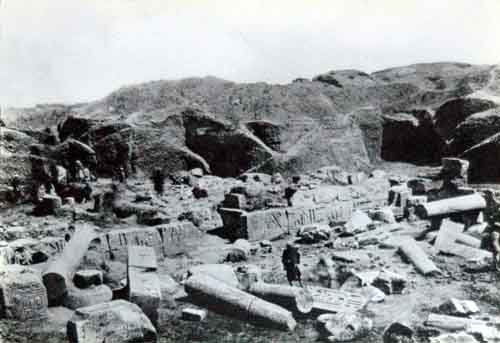 Temple of Herishef at Heracleopolis
The remains of the ancient city of Heracleopolis (Ehnasya) were first excavated by Edouard Naville for the Egypt Exploration Fund in 1890-1891. He found a rectangular hall with six fallen granite columns at it's front. It was thought that this was all that remained of the temple of Herishef. The six columns were given to the BM, Boston, Adelaide, Manchester, Bolton and Philadelphia. More recently the temple has been excavated by the Spanish Archaeologist José López.

In 1903-4 Sir William Matthew Flinders Petrie re-excavated part of the ancient town of Heracleopolis, discovering that there had been more than one temple on the site. The earliest temple was built by 12th Dynasty kings Senusret II (Khakheperra, 1877-1870 bc) and Amenemhat III (Nimaatra, 1831-1786 BC). The temple was re-built and enlarged in the 18th Dynasty (1550-1295 bc) and another large re-building was undertaken by 19th Dynasty Ramesses II (Usermaatra Setepenra, 1279-1213 BC). Ramesses re-used pink granite columns from the 12th Dynasty temple, they were re-carved with scenes and his name and erected as part of the portico of his temple. Naville found 6 columns but Petrie estimated that 8 columns would have been required. The temple was dedicated to the ram-headed god Herishef, whose main temple and cult-centre was at Heracleopolis.
The two fragments of a column that Bolton received weigh about 1˝ tons each and are displayed in two pieces. Originally the column were each 17 feet tall. On the column are deeply cut cartouches of Ramesses II. Also the column has a further cartouche marked out by the craftsman which would have represented the names and titles of Merenptah (Baenra, 1213-1203 BC) - who was Ramesses II's 13th son and eventual successor.