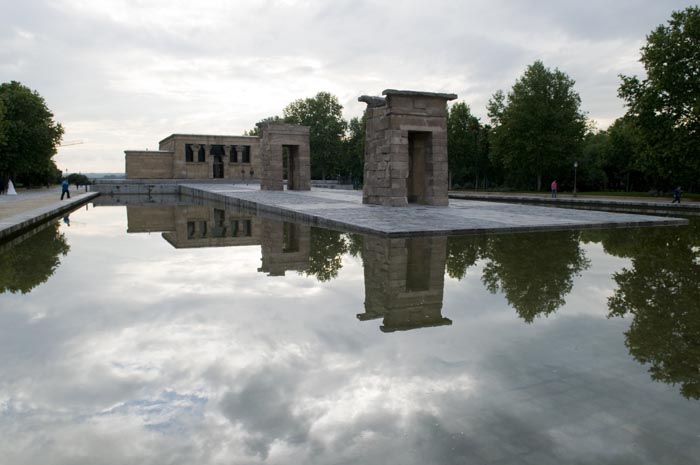 The Temple of Debod
The temple is located between the Parque del Oeste and the Parque de la Montana in central Madrid and is accessible from Calle de Ferrez close to the Plaza de Espana. Access to the Temple, which is surrounded by a shallow lake, is free and its is open twice each day.
It was installed in 1972 after being dismantled in 1960-1961 and donated to the Government of Spain in recognition of efforts of the Engineers and Archaeologists who helped to save many Egyptian temples before they were flooded by Lake Nasser after the completion of the Aswan Dam.
The temple was originally at Dabod or Debod (located 10k south of Aswan on the west bank of the Nile. The first building was a small shrine though to have dated to the Ramesside period. It was replaced by a shine by the Merotic King Adikhalamani during the first half of the 3rd century BC and dedicated to Amun; the chapel was 3.14 by 5.03m with a carvetto cornice.
It was later enlarged by a number of Ptolemaic rulers ( Ptolemy VI, VIII and XII). Ptolemy VI extended to into a full temple by building out on each side and the temple was rededicated the temple to Isis of Philae. Ptolemy VIII added a 2.2m naos [Greek for temple] and Ptolemy XII also a 1.94m naos of granite (the naos were destroyed in 1821 and the Ptolemy XII naos was rebuild in Madrid). The facade was a pro-naos [open vestibule before a temple] tetrastyle in antis [4 column style commonly used by Greeks for small structures] and it was topped with composite capitals which were left unfinished. The pro-naos collapsed in 1868 and has been lost. The final decorative enhancements to the temples were made by the Roman Emperors Augustus and Tiberius.
Originally the temple was fully enclosed and a processional approach connected the entrance with the Nile. Inside the enclosure wall a broad pathway linked to the main temple by two separate gates - which aren't thought to have had their own pylons. So the reconstruction in Madrid, excluding the enclosure wall which was larger than the current lake, is a faithful representation of the original.