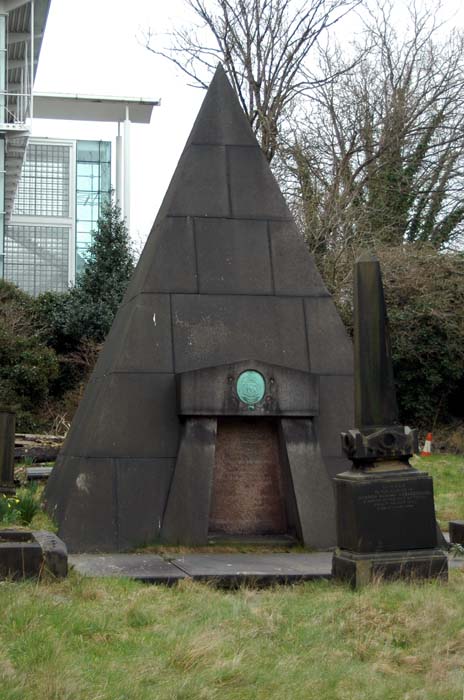 St Andrew's Scotch Church (Presbyterian) is located at OS Grid Reference - SJ 353896, Rodney Street, Liverpool Central

Established 1834 - closed 1973

Before 1793 there was no place of worship for the many Presbyterians who had moved from Scotland to Liverpool. A small group led by Dr. John McCulloch raised enough money to build a kirk on Oldham Street. It was opened in the early summer of 1793 with seating for 820 people. On 6 March 1823 25 members of the congregation led by Dr. John McCulloch left over the appointment of the Reverend John Stewart by Mr. McIver over the Reverend Dr. David Thom. They agreed to build a new church and to offer it to the Reverend Dr. David Thom. He accepted and opened the Music Hall as a temporary chapel on 23 March 1823.

On 17 June 1823 the foundation stone of the new church in Rodney Street was laid and it opened on 3 December 1824. The church was closed in 1975, but Sunday services continued in a room in Liverpool Cathedral.

The design and construction was supervised by John Foster (1786 - 1846), Senior Surveyor to the corporation of Liverpool prior to Municipal reform and the noted architect of St. Lukes Church (now burnt out, and known in Liverpool as 'The Bombed out Church'). Also St. Andrews Church, Rodney St, as well as the Oratory, The Lodge at the South end of the Cemetery, The Ministers House and Gambier Terrace (Featured in the Old Drawings of the Cemetery)

The Liverpool Scottish held their Remembrance Sunday Service at St. Andrew's until it closed, marching from Fraser Street with the Colours to the church even after the barracks there had closed.

In the churchyard of St. Andrew's Church of Scotland is a monument in the form of a pyramid to James Mackenzie which was built in 1868. Mackenzie was a railway contractor and reputed to have been an avid gambler. Folklore has it that he wished to be buried sitting upright at a card table with a winning hand, hence the pyramid.